5 février 2007
1
05
/

02
/

février
/

2007
16:40
HEC Paris - Feb 1st - 2007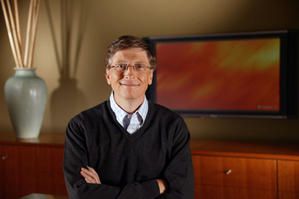 Togheter with some French executives and HEC Alumni I was invited by HEC Paris to participate to a conference and debate with Bill Gates
Microsoft is currently launching Vista with a $500 million campaign
This was a great occasion to
exchange on visions of the future
, but also to know more about his background and path forward.
Bill Gates presented his vision of the world, preaching for development of the planet through the spreading of technologies and the access to information for everyone from Africa to Asia.

Bill pictured the society of tomorrow where the convergence of all media and systems will permit to be "wired" permanently in an interactive world.
The availability of information and new media will permit to create transparency in those countries where the practice block the individial initiatives.

It will permit to everyone to compete at a more equal level, in a more balanced world. Already the Web 2 technologies shows the great possibilities to generate new business models and speak up to a world with more freedom.


He explained how at the age of 13, together with his pal Joe Allen, he stepped into the entrepreneurial world.

At that time Bill gate had no ambition to succeed in Business, he was simply a passionate teenager, who loved spending his time programming.

He had the vision that computers could be used by the wide public and not only the companies. At that time this thinking was totally out of perspective, no one could believe that PC would reach most of our homes . IT was for specialists only.

He focussed developing software that could be use with no clue of programming. There started the big story that made him the richest man in the world.

From 2008 Bill Gates will retire from his function of Microsoft Chairman and work exclusively for his foundation. His ambition is to partner with pharmaceutical companies to permit the access to medicine to whose who cannot afford to subsidy the billions R/D efforts by paying the high price.
What surprised me most during this debate is the simplicity and humanity that Bill Gates his showing though his formidable achievements.
Emmanuel Facovi