21 octobre 2006
6
21
/

10
/

octobre
/

2006
17:42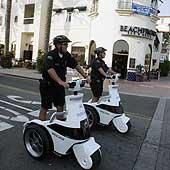 3motion of California has just launched a new futurist electrical vehicle ,
This 3 wheel stand up is environment friendly , for use in high density area . Powered by electrical batteries it has a speed of 40 km/h and an autonomy of 45 km. It costs around 6000 US$
An other company ,Segway did already developped their famous 2 wheels vehicle for patrolling city streets, airport concourses or parks and trails. Hundreds of police depts already use the Segway trough the US, as well as security perdonnel in a hundred of Airports so far. The speed is 20 km/H and the operating range is 38 km.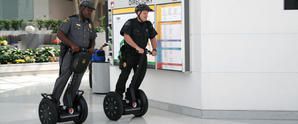 To move forward or backward on the Segway PT, the rider just leans slightly forward or backward. To turn left or right, the rider simply moves the LeanSteer frame left or right.
Bad guys will have to run faster...