3 mai 2006
3
03
/

05
/

mai
/

2006
10:58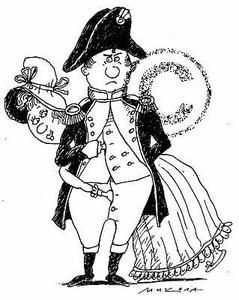 Napoleon said ? se faire battre est excusable, se faire surprendre est impardonnable?
Economic Intelligence sounds a difficult concept for you ? It is simple things behind hard words
On April 24th, I did participate to the Economic Intellingence conference with the most renamed specialists of multinationals, universities, state or private consulting firms at ESCP Paris
What is competitive Intellingence ? It is about to know your environment by collecting, sorting, storing information that will permit you to win the competitive race or at least not to loose your business by missing the crucial information, so in this sense to protect yourself.
Lets take some examples where Economic Intelligence would have been safe. Kodak One of the most successful multinational has been ruling the Photos and picture world for decades making billion profits with the paper photography. Today they are loosing all of their shares, laying off thousands employees, closing their factories ? simply because they did has the sufficient E.I methodology to anticipate the technical evolution to the digital photography.
We could mention the case of GEMPLUS a nugget of the French innovation with its Smart Card technologies now fully control by investors.
Other Examples could be taken with the Pharmaceutical industry and the explosive use of Generics, that bring famous companies to very difficult situation and the emergence of new actors in , Brazil or China.
Parallel to the anticipation of technological Risks , I.E permit to anticipate Political and Geopolitical risk, Administrative or Legal Risks ( new Regulations , Taxes?), Sanitary Risks (ex Bird Flew ) , Acquisition Risks (ex Mittal / Arecelor Case) , Competitive Risks ( Prices and market evolutions)
More and more tools permit to do this, from the most common and simples ones, using Google search or creating Google News Alerts, building up a network of peers or experts in a field that will exchange the relevant info . But also a very dedicated methodology is now required
The information for a company can be of 3 kind: the one controlled (released by corporate on a web site for instance; or financial statements) the one semi-controlled (Press articles; Employees, Market institutes?) and the one your are subjected to (competitive Environment, Partners , Schools/universities..;) so that to gather all those information you better build up a system or networks with different type of informers , like Correspondents , Observers or Experts.
It will permit to drag an enormous quantity of information, some well-structured, other very erratic. To collect and sort the information software from companies like Cognos or Digimind may help you.
So getting information is not the most difficult task. Once you get this info you need the double check it with multi-sources, to analyse and evaluate (sometimes to minor it) , to build up several scenario with the potential impacts or effects.
Last stage consist in to communicate to the right level of decision and convince so that an appropriate action can be driven.
From the state levels ( Alain Juillet leading the mission for France ) to large Multinationals (Schneider electric, Areva, Rodhia, Danone, L?OREAL, EADS ) more and more resources are employed to manage the E.I.
Japan, Korea, Israel, or are well in advance on I.E . is now making a big step. The subject is part of education programs in Harvard or other top schools in US, and Europe .
I have been working with Nokia for a over a decade , and it is certainly also one of the key element of their success , and they did not hesitate for instance to create a Venture Capital group to invest or participate in start up or partner with famous university to maintain their technological advantage, or to create virtual communities around software topics, as such building up a considerable network.
The I.E business is anyway expanding a lot, large consutancy companies like Kroll , Blueprint in , Atlantic Search, GEOS in and providing their services.
Emmanuel Facovi