4 mai 2006
4
04
/

05
/

mai
/

2006
23:02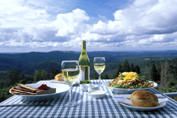 Do you know the BYO restaurants ? Yes BYO not BIO
BYO goes for Bring Your Own (Bottle) . This new restaurant concept is coming right away from New Zealand and Australia , and yet a new BYO opens every day in big American Cities.
Originaly BYO restaurants are the ones not having the licence to sell alcohoolic beverages and liquors, so that they permitted their clients to bring their own bottles.
Believe it or not , those restaurants are about to become the most popular and trendy in the US . Customers get tired to pay high price for "dirty" wines or do not want to pay a fortune for good ones.
(it is a rule in restaurant to price a bottle 6 to 20 times its cost)
Now in the US hips and Urbans like the idea to select their own wine at reasonable price at the streert corner winecelar.
As a matter of fact BYO restaurants are basically providing good food, some of them vegetarian or natural products . Their design is very modern and stylish , with cool music.
Many people who would not go to a restaurant are BYO addicts now. W
Wealthy peoples and VIP are going there because they love the concept of coming with their own great wines and have an "happening" there.
I have not seen one in Europe so far , what do you think a new Eldorado businesss idea !!!I wonder if this can cope with french way ?