22 décembre 2007
6
22
/

12
/

décembre
/

2007
17:44
In an earlier article (here) I introduced the upcoming of RFID products and applications that will invade our daily Lifes.

I briefly remind that RFID is an "electronic Label" made of a

chip and an antenna

, that contend

Identification information and communicate

via Radio Frequencies

A new step in development has been unveiled by

Hitachi

in Japan with the release of "Powder" RFID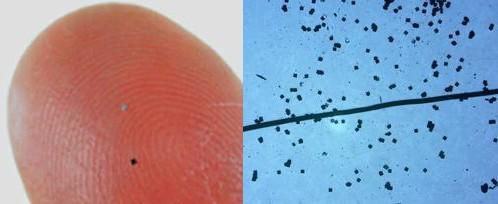 A 5 microns thick, RFID chip measuring only

0.05 x 0.05 mm

.The new chips have a 128-bit ROM for storing a unique 38-digit ID number. It will use a frequency of 2.45GHz.

This new RFID Chip will be brought on the market in the next 2 to 3 years. So with a high volume production we can imagine that in less than 10 years from now *all single product , paper, document... can be RFID taged.

It is a new revolution in the tracability of goods.

But it does not not only concern objects and merchandises.

Beyond the numerous industrial applications, People too...can be mapped, such a small chip complete a range of available biological indentification means such as fingerprints, ADN...

The George Orwell

vision of Big Brother

watching us in his book "1984" might year after year become true... ?
emmanuel facovi